STM is committed to its policy of "Timely execution and accurate completion" of work from the first time and every time with top quality and to the satisfaction of the client.
STM Engineering & Contracting (S.A.E) is a private joint-stock company founded in 1992 and developed in 1998 to become an Egyptian joint-stock company. Specializing in construction, and high-quality Architectural finishing turnkey Industrial Works, Cinemas &Steel Structures' Projects.
Its prime objectives are providing high-quality performance, customer satisfaction, and timely completion of its contractual obligations for fair and competitive prices. STM is committed to its policy of "Timely execution and accurate completion" of work from the first time and every time with top quality and the satisfaction of the client and always providing highly integrated building solutions. Certified with ISO 9001.
Facing the new millennium, challenges like privatization, globalization, and modernization must be managed effectively. STM accepts these challenges, as an opportunity to strengthen and expand its capabilities. In STM, we believe that quality is the shortest way to minimize cost and time and attain customer satisfaction. STM has implemented an integrated Quality Assurance and Quality Control system as a part of its strategic goal … enforcing complete and continuous compliance with the Total Quality Management System.
STM is an Egyptian joint stock company that has been providing integrated building solutions since 1998.Our expert team handles various projects, including industrial, commercial, and residential construction and design, infrastructure and water treatment, tourist attractions, and completing any and all administrative tasks. We pride ourselves on over two decades of serving an extensive list of clients, whose trust we have worked hard to earn. Our work ethic focuses on a strong commitment to quality and customer satisfaction.
We develop marketing strategies and pricing techniques then implement these plans to ensure that all involved parties benefit in each project STM takes on. Nonetheless, we recognize the role teamwork plays in each and the value of collaborating with property owners, consultants, subcontractors, vendors, and technical and administrative staff. STM consistently uses all of its resources, expertise, and managerial skills to achieve the defined goals of each project. STM constantly recruits choice individuals who are highly skilled professionals to become staff members. These professionals are trained through our rigorous training programs and come to master various specialized software programs that enable them to manage any stage in the project cycle.
AT STM our primary focus is customer satisfaction which we strive for through prompt and timely undertaking of tasks. We do our best to ensure that our team is working within the allocated budget and the predetermined job specifications to meet client expectations.
We also focus on giving the STM team many opportunities for professional development, including training programs designed to give members practical, on-the-job knowledge and skills. This is just one more way that quality of work is protected and customer satisfaction enhanced.
After more than 23 years of work experience that gave us a competitive advantage, we aim to earn a place in the top 5 construction companies in Egypt.
Optimizing use of all resources, especially our team.

Investing in human resources through continued performance enhancement opportunities.

Ensuring high-quality work while controlling costs.

Reducing costs while preserving our signature high-quality work.

Driving progressive institutional development.

Developing and implementing targeted plans.
( Integrity – Team Work – Strong work ethic –  Commitment and constant improvement – Creativity )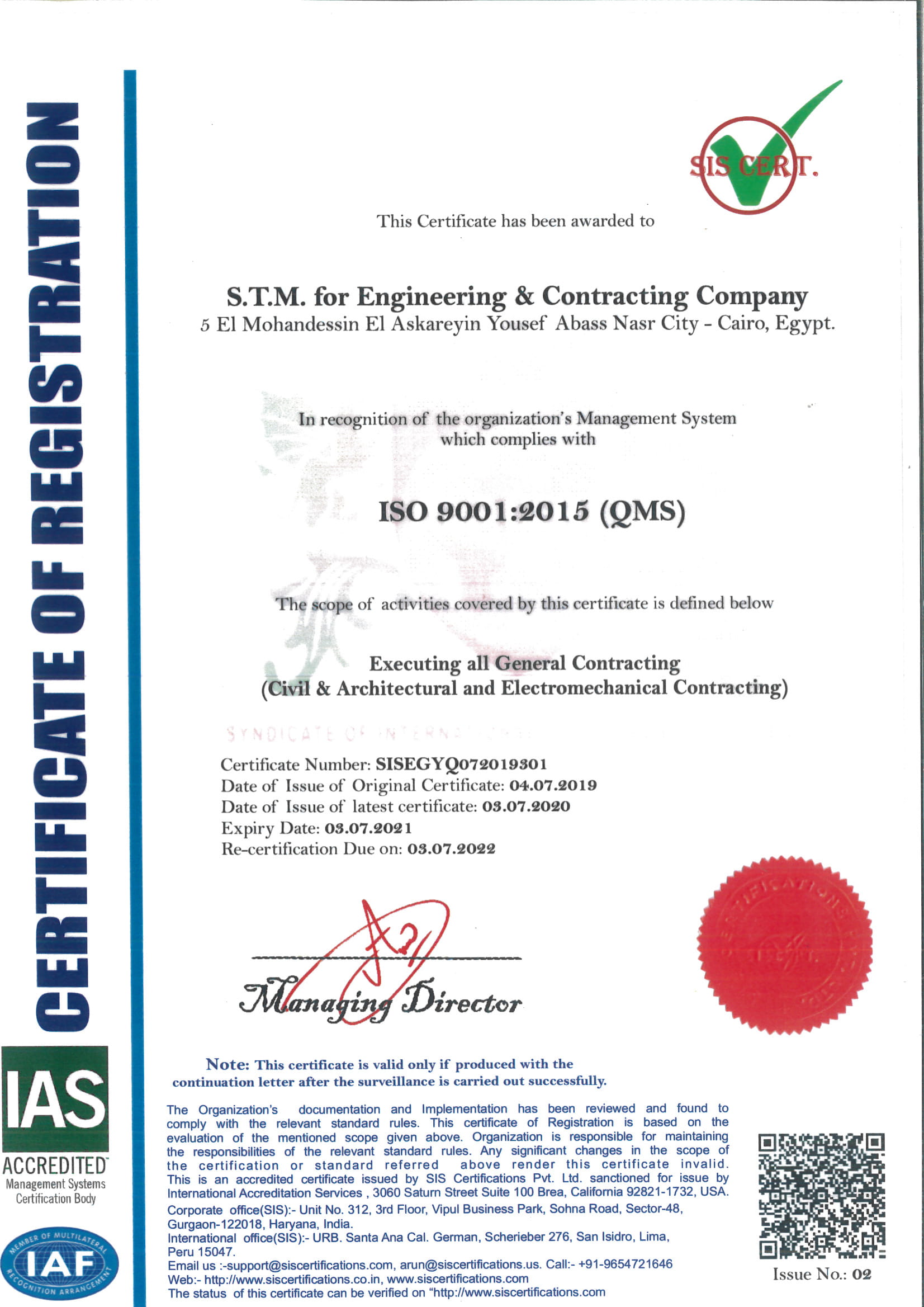 Start Building Your house. Let's go today!